Roids!!!! Roids are basiclly cars and stuff that came alive to fight for you
a bit of help of some freinds.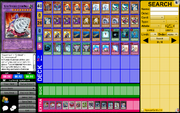 Monsters
1 Black Luster Solder Enovy of The Begining
1 Gale
3 Drilllroid
2 eff velier
2 express roid
2 Lyla
3 Necro Gurdna
2 Ryko
2 ShuttleRoid
2 Spirit Reaper
3 SteamRoid
3 Sumaroid
Spells
1 Chare of the
1 Dark Hole
1 Monster Rebon
1 MST
2 Pot of Dualtiy
2 Super Velcoriod Connection Zone
Traps
2 Comples
1 Mirrer force
2 Warnings
Extra
Ad blocker interference detected!
Wikia is a free-to-use site that makes money from advertising. We have a modified experience for viewers using ad blockers

Wikia is not accessible if you've made further modifications. Remove the custom ad blocker rule(s) and the page will load as expected.