Welcome to the Yu-gi-oh! Dueling SQuad Wiki
Welcome to the Yu-gi-oh! Dueling SQuad Wikia! This is a wiki for dueling, polls,card tactics, and even a deck archive! This wiki and its users are not associated with the Yu-Gi-Oh franchise, Konami, or Shonen Jump in any way.
This is a wiki that everyone can edit. Help us get the start we need!
Duels are now directed to the Chat Room to avoid flooding of comments. We are happy with this improvement, and hope your experience is enhanced with Wikia's Instant Chat. Thanks for dueling with us! 
We are Black and Blacker than ever
Scratch that last comment, we are now dead as the grim reaper himself
Community Access
A new section to the Wiki!
This is our Community Corner!
Deck Archive Here!
Our Tournament feature is now operational!  
Our Live Chat Room is now online!
This Week's Poll is in!
Which of the following classic Yu-gi-oh cards is your favorite?
Latest activity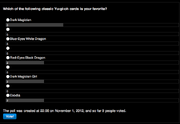 Ad blocker interference detected!
Wikia is a free-to-use site that makes money from advertising. We have a modified experience for viewers using ad blockers

Wikia is not accessible if you've made further modifications. Remove the custom ad blocker rule(s) and the page will load as expected.